The Gemtek instruments measures the THERMAL CONDUCTION of gemstones using a heated probe.
The Daneng Gemsensor measures the REFLECTIVITY property of gemstones using an infrared probe.
Generally, a gemstone is not positively identified by just one test alone and the instruments below should not be considered as being able to do so, although it may be possible at times.
The identification of a gemstone is generally a process of eliminating possible stones down to one specific.
The instruments below, and especially the combination of the GEMTEK GEMMOLOGIST, the DANENG GEMSENSOR and a gemstone colour chart, can be very helpful in such a process.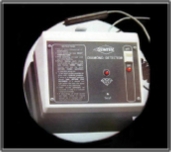 GEMTEK Diamond Detector - Desk Model;
It has an ON/OFF switch & light, test point for the probe and a ready/test light.
It is very basic and simple to operate. No special training is required.
Step by step instructions are displayed on the front panel.
Stones can be very quickly tested, even whilst set in jewellery,
And; if the test is negative, then the stone can NOT be a Diamond,
if the test is positive, then it is MOST LIKELY a Diamond.
It comes with an 18Volt, 1Amp, DC power supply.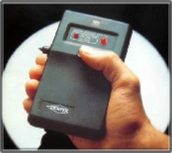 GEMTEK Diamond Detector - Pocket Model;
It is very basic and simple. It can test stones whilst in their settings.
It has an ON/OFF switch & light, a test light and a retractable testing probe.
It operates on three 9V button batteries (not supplied).
There is a connection for plugging in a re-charger, but must only be used if re-chargeable batteries are installed.
Options:
Re-chargeable 9V Ni-Cad batteries.
A 27V Ni-Cad battery charger.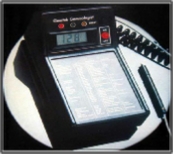 GEMTEK GEMMOLOGIST;
The GEMMOLOGIST can be very helpful in order to determine what a
stone is likely or not likely to be, even if set in jewellery.
It may at times positively identify a gemstone, especially diamonds.
It comes with an 18Volt 1Amp transformer for 220-240V power supply.
Options:
A Sterling Silver test/reference plate set with gemstones.
It is used to ensure that the GEMMOLOGIST is properly
calibrated to the supplied list of the values for various
gemstones. (see below).
To test if you need the GEMMOLOGIST; What stone is this?
View video here: To see the answer, click here–>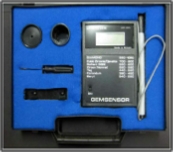 DANENG GEMSENSOR;
The GEMSENSOR can be used for testing stones already set in jewellery which is an advantage as many of the test normally used require the stone to be un-set.
It comes in a carry case: 230 x 185 x 45mm.
The GEMSENSOR operates on a 9V button battery (not included).
(If both the GEMSENSOR and the GEMMOLOGIST place a stone tested in the same gem family group, then the colour chart may enable a definite identification.)
Sterling Silver Test/Reference Plate;
It is set with: Sapphire - Citrine - Emerald - Cubic Zirconia with each stone, and the Silver plate itself, producing different readings on the GEMMOLOGIST.
The readings cover the whole scale range with the Silver Plate producing the lowest (similiar to Diamond) and the Cubic Zirconia the highest reading.
The plate have various size holes on it where small unset stones can be placed and held stable whilst testing. Although it is desirable to keep the GEMMOLOGIST calibrated according to the supplied chart of readings for various gemstones, stones can be tested by simply comparing test results with results taken from KNOWN stones, like the ones on the plate.