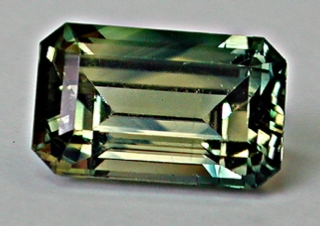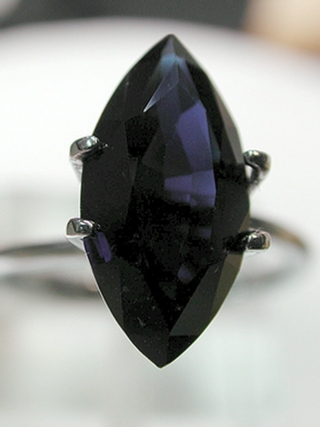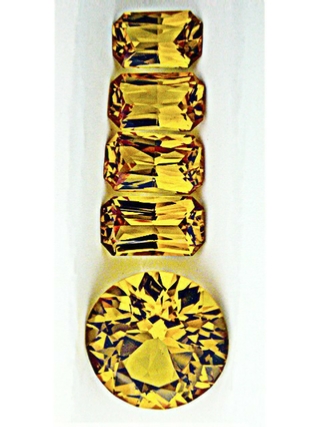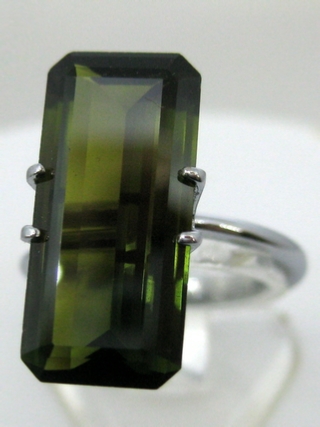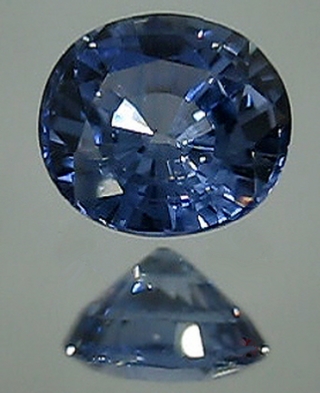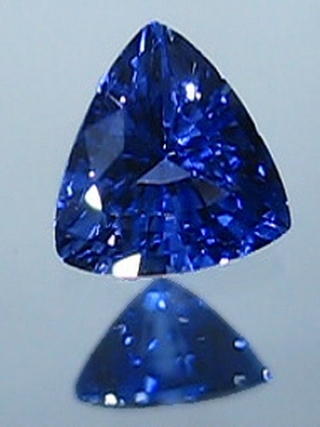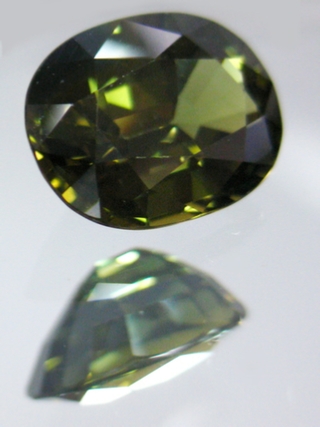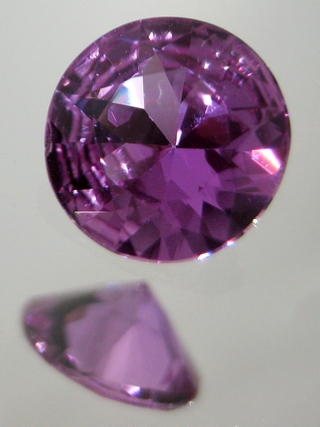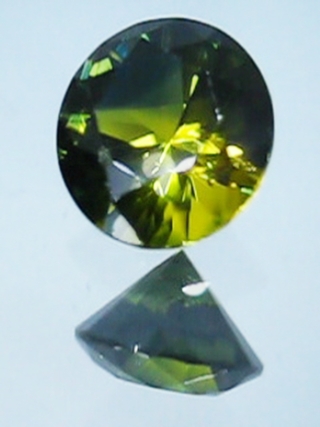 Back to Page 1....







Australian Sapphires:
Blue - Green - Yellow - Black
Parti-Coloured - Black Star Sapphires
Round * Oval * Pear * Marquise
Emerald Cut * Baguette Cut
Certified:
"Natural, Unheated Australian Sapphire"
The rough stone, which "The Golden Boomerang" was cut from, was 155 carats (31 grams) when found in the late 1960's.
The rough was a perfect Parti-Coloured stone; one half was pure Yellow and the other half was pure Green.
It was sold to a Thai Gem Merchant who specialised in Aussie rough Sapphires.
He sliced the rough stone into two pieces; one piece being cut into a spectacular square emerald cut (Octagonal) Green Sapphire of just over 24 carats,
And the other half yielded the above 19.67 carat Yellow.
Both of the cut stones, however, were bought back from the Thai Gem Merchant in the early 1970's when the OPEC crisis disrupted the Thai Sapphire cutting industry.
The 24 carat Green Sapphire of exceptional clarity was some time later sold to a Japanese Gem Merchant.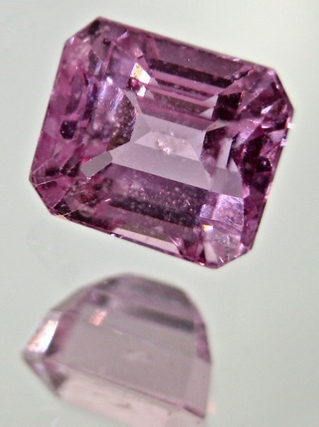 | | | | | | | | | |
| --- | --- | --- | --- | --- | --- | --- | --- | --- |
| StkID | Itm | Gem | Org | Cut | Color | Carats | Long | Wide |
| 15209 | 89 | RU | AF | CC | Re | 1.72 | 7.01 | 6.3 |
| 15378 | 32 | RU | AF | EC | Re | 1.77 | 6.99 | 5.56 |
| 15378 | 31 | RU | AF | EC | Re | 1.68 | 7.57 | 5.91 |
| 15378 | 33 | RU | AF | EC | Re | 1.54 | 6.68 | 5.27 |
| 15304 | 1 | RU | AF | HC | Re | 1.78 | 6.9O | 6.92 |
| 15433 | 8 | RU | AF | OC | Re | 1.84 | 8.39 | 6.39 |
| 10860 | 1 | RU | BU | OC | Re | 1.36 | 6.75 | 6.39 |
| 27405 | 2 | RU | MO | DC | Re | 1.54 | 8.18 | 5.96 |
| 27405 | 3 | RU | MO | DC | Re | 1.04 | 8.24 | 4.7O |
| 27294 | 7 | RU | MO | EC | Re | 2.64 | 9.13 | 6.45 |
| 27481 | 1 | RU | MO | OC | Re | 1.08 | 6.9O | 4.61 |
| 27631 | 6 | RU | MO | OC | Re | 1.03 | 5.84 | 5.02 |
| 15378 | 5 | RU | TH | EC | Re | 2.14 | 8.04 | 5.58 |
| 10932 | 0 | RU | TH | OC | Re | 2.46 | 9.48 | 7.06 |
| 11578 | 1 | RU | TH | OC | Re | 1.26 | 7.76 | 5.OO |
| | | | | | | | | |
| 10915 | 0 | SA | AU | CC | Ye | 20.83 | 16.5O | 13.28 |
| 10975 | 1 | SA | AU | CC | Be | 3.55 | 9.64 | 7.78 |
| 10978 | 1 | SA | AU | CC | Gn | 7.02 | 13.74 | 10.18 |
| 11045 | 3 | SA | AU | CC | Pa | 3.24 | 8.56 | 7.35 |
| 10983 | 1 | SA | AU | CC | GnYe | 5.55 | 11.66 | 10.12 |
| 11987 | 1 | SA | AU | CC | GnYe | 11.47 | 15.88 | 10.83 |
| 11752 | 3 | SA | AU | EC | Ye | 2.51 | 9.OO | 6.7O |
| 11045 | 2 | SA | AU | EC | YeGn | 3.02 | 9.49 | 6.34 |
| 11995 | 0 | SA | AU | EC | Be | 1.93 | 8.01 | 5.93 |
| 11419 | 2 | SA | AU | EC | YeGn | 2.68 | 9.97 | 6.03 |
| 11474 | 2 | SA | AU | EC | YeGn | 2.43 | 8.11 | 6.27 |
| 12054 | 0 | SA | AU | EC | Be | 1.63 | 7.98 | 5.47 |
| 10913 | 1 | SA | AU | MC | BeGn | 9.34 | 20.99 | 9.94 |
| 10980 | 1 | SA | AU | OC | GnYe | 6.82 | 12.01 | 10.19 |
| 10982 | 1 | SA | AU | OC | GnYe | 4.53 | 12.32 | 9.32 |
| 10984 | 1 | SA | AU | OC | Gn | 14.55 | 17.26 | 13.29 |
| 10979 | 1 | SA | AU | OC | GnYe | 5.37 | 12.05 | 8.95 |
| 11333 | 0 | SA | AU | OC | Be | 10.2 | 16.03 | 11.17 |
| 11486 | 1 | SA | AU | OC | Ye | 4.5O | 13.01 | 9.36 |
| 11990 | 1 | SA | AU | OC | Ye | 4.35 | 10.86 | 9.11 |
| 11754 | 1 | SA | AU | OC | Gn | 2.28 | 9.69 | 7.02 |
| 10950 | 1 | SA | AU | OC | Ye | 19.67 | 17.66 | 13.43 |
| 30672 | 5 | SA | AU | OC | YeGn | 6.15 | 13.56 | 9.35 |
| 12901 | 2 | SA | AU | OC | Be | 2.17 | 8.69 | 5.83 |
| 12901 | 1 | SA | AU | OC | Be | 1.95 | 7.86 | 6.02 |
| 11344 | 1 | SA | AU | RC | Be | 6.89 | 11.03 | 10.94 |
| 12144 | 0 | SA | AU | RC | Ye | 13.69 | 14.62 | 14.51 |
| 10986 | 1 | SA | AU | RC | GnBe | 9.44 | 12.88 | 13.16 |
| 30661 | 14 | SA | AU | RC | Be | 3.12 | 8.33 | 8.39 |
| 12094 | 0 | SA | AU | RC | BeGn | 5.63 | 11.16 | 11.08 |
| 11840 | 0 | SA | AU | RC | Be | 3.96 | 10.24 | 10.17 |
| | | | | | | | | |
| 31716 | 3 | SA | MA | CC | Pi | 4.2O | 9.62 | 9.63 |
| 31792 | 1 | SA | MA | EC | Pi | 2.11 | 7.9O | 6.72 |
| 11667 | 1 | SA | SR | CC | Ye | 11.49 | 14.17 | 11.3 |
| 12188 | 0 | SA | SR | CC | Pi | 4.52 | 9.2O | 9.15 |
| 30227 | 3 | SA | SR | CC | Be | 2.16 | 7.74 | 6.88 |
| 12343 | 0 | SA | SR | CC | Be | 8.24 | 11.16 | 8.79 |
| 30697 | 3 | SA | SR | CC | Pi | 4.19 | 11.05 | 9.15 |
| 31047 | 3 | SA | SR | EC | Be | 1.68 | 8.24 | 6.2O |
| 31405 | 2 | SA | SR | EC | | 1.9O | 8.78 | 6.02 |
| 10921 | 2 | SA | SR | OC | Be | 4.85 | 10.6O | 8.11 |
| 27482 | 14 | SA | SR | OC | Be | 3.07 | 8.5O | 6.96 |
| 30697 | 4 | SA | SR | OC | PI | 4.57 | 12.46 | 9.18 |
| 31813 | 8 | SA | SR | OC | Pi | 2.82 | 9.45 | 7.24 |
| 47004 | 1 | SA | SR | OC | YeOr | 3.33 | 9.92 | 8.45 |
| 47007 | 1 | SA | SR | OC | Be | 1.61 | 7.33 | 5.71 |
| 47012 | 30 | SA | SR | OC | Ye | 4.77 | 10.85 | 8.68 |
| 47012 | 34 | SA | SR | RC | Ye | 2.03 | 7.45 | 7.42 |
| 31758 | 1 | SA | UN | CC | Ye | 7.18 | 12.5 | 9.24 |
| 31040 | 3 | SA | UN | LC | Ye | 2.36 | 7.6O | 7.46 |